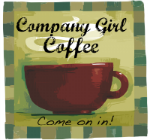 Happy Friday Everyone! 
 I would love to sit down with each and everyone of you and enjoy alittle cup o'joe. Hopefully this post finds all of you well and happy. I just got through watching the national news and man can't that just depress you beyond belief? I was watching all the folks in the middle of the country that are having to struggle with just having electricity and heat tonight and my heart goes out to them. We all take things like that for granted until they are snatched away in a second. I know when I see things like that I am humbled and thankful that our God is in control. When we see just a small portion of what is going on, He always sees the big picture ! 
      Our task this week from Rachel Anne is to have a housekeeping schedule. While most of us have the tendency to think, Yuck, I really have been searching my heart and realize that it's a blessing that I even have a home to get messy. My time with Him in the morning is spent in thankfulness for all the blessings in my life. I hope this thought lights alittle spark for you to spend alittle extra time in your day thanking God for all He gives us when we definately don't deserve it. 
1Cor. 23:30 They were also to stand every morning to thank and praise the Lord.
They were to do the same in the evening. 
Thanks gals for coming and have a blessed weekend!!
Toodles,
Regina