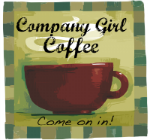 COME IN AND HAVE A CUP OF COFFEE WITH ME!!!!!!
O.K., if this is how you are feeling today then you are not alone. Many of us just don't have enough hours in the day to get all those daunting tasks done that we need to do. Luckily, I have discovered Rachel Anne's website @ http://homesanctuary.typepad.com/rachelanne and have gotten my life in order. She has introduced us to an amazing schedule that has put peace back into my life. Luckily now, my "I like to do" list is outweighing my "I have to do" list. 
    These are some of my A-ha moments this week:
That paperclip that is on the floor is not going to magically grow legs and walk into the drawer. I'm going to finally pick it up and put it away.No more groundhog day for me!
I don't have to keep a million magazines. Recycle them to friends!!!
It feels good to wake up to a sink that isn't full of dishes and is spic-n-span.
I can wash a load of clothes in the morning so they are ready to go when I come home.
The kids don't care that i'm not Betty Crocker. They just want a meal that is not in a can.
I can still look and feel sexy for my husband,ooohhlaaaalaaa!                                                     
Thanks again for visiting and hope everyone has a wonderful weekend!!!
Toodles,
Regina