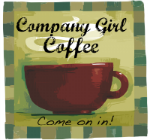 Happy Valentines Friends!
Thanks for coming to our Friday coffee. Can I offer you some delicious raspberry tea or coffee along with some yummy chocolates? I just can't resist these. They seem to call out my name as soon as they get in my house. 
   I do feel that it's the one time that I just indulge and say,"It's o.k." Isn't it amazing how many different treats that you can find in the store or bakery? I just wanted to get some for my kids to give out at school and the choices are overwelming. Plus, it cracks me up how it's a contest about who can give out the "coolest" valentines. My sons are like,"Mom, it's not cool to give out suckers, we have to give out fun candy like AIRHEADS. So, now I know. 
     I'm going to take a little poll on my post today. I'd loved to know what you find romantic.
A night out on the town with eating out, movie, or dancing
A quiet night at home, home cooked meal, rent a movie , cozy fire
A picnic lunch at the park
A handwritten poem from your hubby
Flowers
Of course, I wouldn't give a poll without taking it myself. What I find romantic is a quiet night at home, home cooked meal(from my husband) and also he cleans it up, a great movie like Sleepless in Seattle or When Harry Met Sally and a great fire that's cracklin in the background. 
I might even get lucky(hey this is PG) and get a foot rub which I LOVE!!!! So, if any of my friends want to contact the significant other and hint on the foot rub then I owe you. 
Whatever your day brings, just remember how much you are loved by so many people that you may not ever get to meet but share a common thread of wanting their home to be a sanctuary for their families. Happy Valentines to all my
Company Girls
. I hope it's special as all of you are. 
Toodles and<>,
Regina